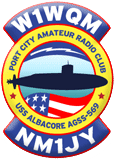 Kriss Kliegle, KA1GJU, writes on the Port City ARC mailing list:
Plan on showing up at 0645 at the Portsmouth High School or thereabouts. Many thanks to those planning on being there this Sunday AM!
Can I have a list of volunteers to assist in the parking of vehicles at the Portsmouth High School grounds on Sunday, October 31?
We have had a year off due to Covid, but they are doing it this year with many doing it virtually… so participation is expectedly to be down.
They have food and coffee available in the cafeteria and nice quality t-shirts (long sleeve T's have been the norm).
Bring an HT (with charged batteries!) and know how to get on a simplex frequency (VFO Mode) and lock it. Ear buds or speaker mic are handy as well.
Here's the latest email…
—
Hello PCARC members:
Thank you again for volunteering. Your ongoing support means a lot to the race. We are happy to be hosting a live race again this year, and our volunteers are such a necessary part. 🙂
We expect less than half of the normal field of runners, which we needed to limit for the pandemic conditions. Parking the participants should be easier this year, and forecasts look pretty good for Sunday.
As in the previous email, just report to the Portsmouth High cafeteria around 6:45 AM on Sunday. We will have shirts and refreshments at the volunteer table there.
Wearing masks is voluntary inside the school, and extras will be available at the door.
Looking forward to seeing you.
Stay healthy,
Dan Beauley for the Seacoast Half Marathon board