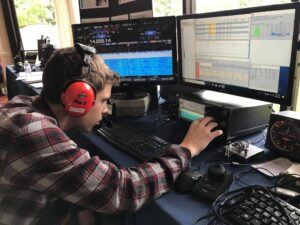 Introduction
ARRL is the National association for Amateur Radio in the US. Founded in 1914 by Hiram Percy Maxim as The American Radio Relay League, ARRL is a noncommercial organization of radio amateurs. ARRL numbers within its ranks the vast majority of active radio amateurs in the nation and has a proud history of achievement as the standard-bearer in amateur affairs. ARRL's underpinnings as Amateur Radio's witness, partner and forum are defined by five pillars: Public Service, Advocacy, Education, Technology, and Membership.
A bona fide interest in Amateur Radio is the only essential qualification of membership; an Amateur Radio license is not a prerequisite, although full voting membership is granted only to licensed radio amateurs in the US.

Vision Statement
As the national association for Amateur Radio in the United States, ARRL:
Supports the awareness and growth of Amateur Radio worldwide;
Advocates for meaningful access to radio spectrum;
Strives for every member to get involved, get active, and get on the air;
Encourages radio experimentation and, through its members, advances radio technology and education; and
Organizes and trains volunteers to serve their communities by providing public service and emergency communications.
Governance Structure
ARRL's governance structure divides the United States into 15 Divisions. Each Division's Director and Vice Director represent their Division on ARRL policy matters.
ARRL Divisions are further divided into administrative sections. Most sections consist of entire states, however, Massachusetts consists of two sections. The New England Division is comprised of the following sections: Connecticut, Eastern Massachusetts, Maine, New Hampshire, Rhode Island, Vermont, and Western Massachusetts sections. Each Section is headed by an elected Section Manager.