Welcome to the New England Division Youth and STEM Outreach program.
Our focus is assuring new and existing Youth in Ham Radio are supported in ways that allow for learning, exploring, demonstrating, and experiencing many diverse focuses within Ham Radio and STEM Technologies.
Connect needs for youth with appropriate sources of learning, funding, and meeting locations.
FCC Amateur Radio license information.
Facilitating likes and desires with trained mentors, ham clubs, and STEM programs.
Point of contact for all youth activities and Ham Radio involvement within New England.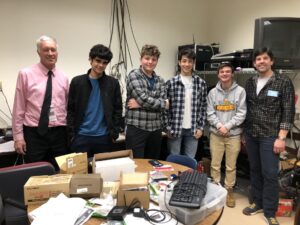 We held a kickoff meeting for our group on April 20th. You can view the recording of our kickoff meeting below.
Are you interested in learning more? Do you have a Ham Radio club needing to grow its youth program?
Please contact
Dan Norman NØHF
Assistant Division Director, ARRL
Thanks for stopping by!