Director
Fred Kemmerer, AB1OC
Contact Information
Fred Kemmerer, AB1OC
39 Baldwin Lane
Hollis, NH 03049
tel: 603-413-5400
email: ab1oc@arrl.org
Biographical Information
Fred Kemmerer, AB1OC, was first licensed in 2010 when he earned his Extra Class license. Fred has been very active in the Amateur Radio Service since becoming licensed and he has engaged in a wide variety of Amateur Radio activities.
Fred, AB1OC enjoys building Amateur Radio stations. He has built a multi-operator HF Station (photos and more information on QRZ.com) and is active on all of the HF bands from 160m through 23cm. He enjoys all modes of operation – SSB, CW, and Digital.
He enjoys DX'ing, Rag Chewing, Contesting, and Special Event operations on the HF bands. He is the 13 Colonies Special Event State Manager for K2K New Hampshire and has been recognized as a top SSB operator in the 13 Colonies Special Event multiple times.
Fred, AB1OC has numerous HF operating accomplishments including:
9 Band DXCC (320 DXCCs mixed, 287 CW confirmed)
DXCC Challenge (2100+ bands-points confirmed)
2014 CQ WW WPX Contest – 1st Place US Area 1 High Power SSB SOAB Assisted (#4 in the US, #20 in the World)
Worked All Europe Top Plaque
Worked All Japan Prefectures
He is also active from his Mobile HF Station. He has activated parks and other locations using his mobile HF station and enjoys making DX contacts when he is on the road.
Fred, AB1OC, is also an avid VHF and above band station builder, operator, and contester. He is active on the 6m Band, 2m EME Band, and on Satellites. His notable operating accomplishments on these bands include VUCC on 6m, 2m, and via Satellites.
Fred, AB1OC, writes a widely followed Blog on Amateur Radio Station Building, providing a resource for the worldwide Amateur Radio Community. You visit his blog at https://stationproject.blog.
Fred, AB1OC has served as President of the Nashua Area Radio Society for the past 5 years. During his tenure, he has transformed NARS from a relatively modest Amateur Radio Club to become a recognized leader in Amateur Radio Licensing and New Ham Development. He led a team that created and delivers license classes for all Amateur Radio License levels (NARS teaches 6 – 7 licenses classes each year). These classes have enabled over 350 folks to earn an Amateur Radio License or License upgrade.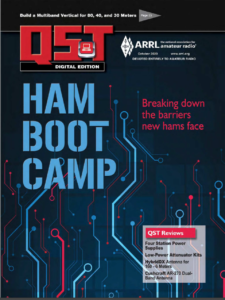 He has also led NARS in developing innovative programs such as Ham Bootcamp that have helped many Hams to get on the air and to use their licenses more effectively. Over 600 hams have participated in Ham Bootcamp since its inception and Fred and the NARS team have helped these folks to get on the air and make effective use of their license privileges.
Under his leadership, NARS has developed many programs that provide learning and skills development opportunities to Hams everywhere. You can see a presentation about some of these programs here.
During his time as a licensed ham, Fred, AB1OC, has worked tirelessly to introduce young people to Amateur Radio and to provide STEM learning experiences in schools. He is an active contributor to the Amateur Radio on the International Space Station (ARISS) program that enables schools to make contact with astronauts on the International Space Station using Amateur Radio.
Fred, AB1OC, serves as an ARISS Mentor and also as one of the twelve ARISS Worldwide Ground Station Network stations. He has helped students in nine schools around to world prepare for and make contact with an Astronaut using Amateur Radio.
Fred Kemmerer spent the early years of his professional life as a software engineer and as a group manager developing software for wired and wireless telecom equipment. He has held many executive leadership positions during his professional life. He has extensive strategic planning and executive leadership experience and has served in leadership roles on industry and corporate boards.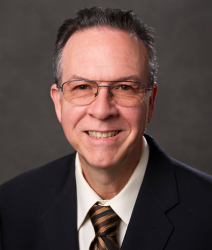 Vice Director
Phillip E. Temples, K9HI
Contact Information
Phillip E. Temples, K9HI
125 Coolidge Avenue
Suite 803
Watertown, MA 02472-2875
tel: 617-331-0183
email: k9hi@arrl.org
Biographical Information
Phil Temples was first licensed over fifty years ago as WN9EAY in Bloomington, Indiana. He holds an Amateur Extra class license. Phil is a QST author and an ARRL Diamond Club Life Member. Phil has also contributed on-line articles for the ARRLWeb site. He co-authored a chapter in the Amateur Radio Public Service Handbook. In the 90s, Phil served for multiple terms as President and Vice President in the Boston Amateur Radio Club.
Phil serves as the New England Division Vice Director, and an Assistant Section Manager for the Eastern Massachusetts Section. He also served for three terms as Section Manager. K9HI has held Affiliated Club Coordinator and Public Information Officer appointments. He was also an Assistant Director in the New England ARRL Division. Phil currently serves as Program Chair for the ARRL New England Division Convention. He sits on the ARRL ARISS and Programs & Services Committees, and serves as the board liaison to the ARRL Radio Orienteering Committee.
In the early 70s, Phil was active in Indiana Navy-Marine Corps MARS, serving as the state training officer. He also served as Emergency Coordinator for Monroe County, Indiana. Phil participated in the National Traffic System at the section, region and area levels. He was also an avid contester at that time, competing in numerous Sweepstakes, CD Parties, and ARRL DX contests. He holds WAS, WAC, and DXCC. While earning an Electrical Engineering degree from Purdue University in the late 70s, Phil was active with the Purdue Amateur Radio Club, W9YB.
Phil would much rather use a keyer than a microphone. During the 80s and 90s, he ran HF mobile on CW with a Yaesu FT-757 and an Outbacker antenna. In 2012 and 2013, he participated as an operator at one of the WRTC 2014 test stations in Pepperell, MA. During commuting hours, K9HI can be found on many of the greater Boston area 2-meter and 440 MHz repeaters.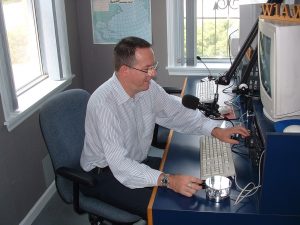 Phil is a life member of the Quarter Century Wireless Association and the Old Old Timers Club. He's also a member of: Ten-Ten International, Boston Area DXers, Canadian International DX Club, Boston ARC, K1USN Radio Club, the Billerica Amateur Radio Society, and an honorary member of the Pilgrim ARC (Provincetown, MA).
During his Amateur Radio career, Phil has actively promoted instruction and licensing. For over twelve years, he served as a volunteer instructor with the Courage Kenny Handiham program based in Golden Valley, Minnesota, attending many of their week-long radio camps in California and Minnesota. He is a Volunteer Examiner under the ARRL, W5YI, and Greater Los Angeles ARG VEC programs. In the past, K9HI has served as a team liaison for the Boston ARC's VE team. Currently, Phil is involved with New England Amateur Radio, Inc. VE team.
Phil works at Boston College as a computer systems administrator. In 2007, Boston College awarded Phil Temples its prestigious Community Service Award for his work with Handihams, along with his participation in a volunteer reading program in the Boston public schools. That same year, Phil received a Champions Award from the Massachusetts State Lottery Commission.
Assistant Directors
Jack Ciaccia, WMØG
Role
Emergency Communications and Public Service
Contact Information
Jack Ciaccia, WMØG
105 Conant Rd.
Nashua, NH 03062
(303) 587-0993
wm0g@arrl.net
Biographical Information
Jack originally got interested in amateur radio as a young teen in Providence, RI while working on the Radio Merit Badge towards his Eagle rank in the Boy Scouts. Jack was first licensed in August 1957 as a Novice with the call of KN1IVY. He soon upgraded to General Class as K1IVY. He took a 15-year hiatus from ham radio from 1972 until 1987, when he re-tested in Colorado and received his Extra Class license with the 20 wpm CW endorsement, as was required back then, and assigned his current WMØG callsign.
Jack, WMØG is active on the HF/VHF bands from 160m through 70cm. He enjoys all modes of operation – SSB, CW, and Digital. He enjoys DX'ing, Rag Chewing, and Contesting on the HF bands. Jack has been contesting recently as a QRP Class station with his KX-2 and a 6-BTV vertical antenna. Jack holds WAS, WAC, and 5BDXCC. He has earned numerous HF operating awards throughout the years and most recently:
5 Band DXCC (305 DXCCs mixed, 239 CW, and 287 SSB – all confirmed)
2022 CQ WW WPX Contest – QRP CW – 1st Place in the New England Division and 9th place in the USA.
2022 ARRL DX Contest – QRP CW – #1 in the NH Section and #5 in the New England Division
2022 ARRL DX Contest – QRP SSB – #1 in the NH Section
Jack served multiple terms as President of the Boulder Amateur Radio Club in Boulder, CO. While in office, he helped found one of the premier youth amateur radio clubs in the country, The BARC Juniors. This youth program meets weekly, eleven months per year, and through the efforts of the Elmers involved has licensed over 300 new young hams in the past 30 years. Many graduates from the BARC Junior organization have gone on to professional careers in electronics and teaching. Also, Jack is the founder and Director of the Boulder ARC's annual college scholarship fund for academic scholarship awards to any licensed ham in Boulder or Broomfield County under the age of 25 in any accredited college or university. Jack served as the Colorado Section Manager for almost 10 years until he relocated to New Hampshire. Prior to that, Jack was the Colorado Section Affiliated Club Coordinator. Jack has been an ARRL VE for many years. He was also a member of Rocky Mountain Ham and the Mile-High DX Assn. Since relocating to NH in July 2020 Jack, WMØG has been a member of NARS.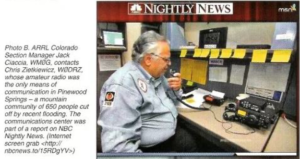 Jack, WMØG was very much involved with ARES in Colorado. He was the Boulder County ARES (BCARES) EC for multiple terms. Under his direction, BCARES became a model ARES organization developing close affiliations with the Boulder County Sheriff's Department, the Boulder OEM, and the Colorado University Police Dept. BCARES has been recognized by FEMA for their technological achievements in disaster communications utilizing combinations of APRS, fast-scan digital ATV (DATV), and multiple Digital modes. BCARES has been called upon for many years to assist in numerous wildfire events and a major flood disaster. While serving as CO Section Manager, Jack and his team of CO ARES managers created and adopted into State law, the Colorado AUXCOMM group. This organization has affiliation with and a seat at the table with the CO Dept of Homeland Security, CO State OEM and the CO Public Safety Dept.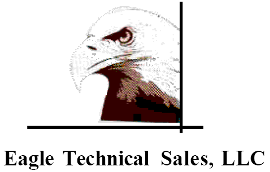 Jack Ciaccia attended Bryant University for business and later, Ashridge Business College in the UK for executive training. Jack is a USAF Veteran and spent the early years of his professional life as a field engineer, first as an Electronic Countermeasures engineer supporting the US Navy's Pacific Fleet aircraft carriers and their attached air squadrons in the South China Sea during the Vietnam War. Later, Jack was a Field Engineer for a Transportation Control Systems company supporting the major railroads in the US. Jack has held titles as Regional Sales Manager, VP, Sales & Marketing, and Business Development Manager. Eventually, Jack left the corporate world to start his own custom power supply design and manufacturing company. After selling that business to a competitor, he owned and managed a manufacturer's representative business specializing in representing major electronic components and wire & cable companies.
Anita Kemmerer, AB1QB
Role
Mentoring and New Ham Development
Contact Information
Anita Kemmerer, AB1QB
39 Baldwin Lane
Hollis, NH 03049
email: ab1qb@nediv.arrl.org
Biographical Information
Anita Kemmerer has led licensing training activities and license exam testing for over six years. She's been involved in training over 400 people to earn Amateur Radio licenses and upgrades. Her professional experience includes technical project management at a large telecom company. She has also played a lead role in the creation and operation of the Ham Bootcamp program which has helped over 750 people develop skills to build stations and get on the air.
Rob Leiden, K1UI
Role
Spectrum Protection and Utilization
Contact Information
Robert G.Leiden, K1UI
21 West Woods Circle
Yarmouthport, MA 02675
email: k1ui@nediv.arrl.org
Biographical Information
Rob Leiden has extensive experience as a Section Manager, an Assistant Section Manager, and as a club president of multiple Amateur Radio clubs. He also has professional engineering and program management experience. Rob has been an active ham for over 60 years and he brings a passion for protecting our spectrum.
Committee Members
Contest Advisory Committee
Rudy Bakalov, N2WQ
18 Fillow Street
Westport, CT 06880
n2wq@arrl.net
DX Advisory Committee
Bob Beaudet, W1YRC
30 Rocky Crest Rd
Cumberland, RI 02864
w1yrc@arrl.org
Section Managers
Connecticut
Bud Kozloff W1NSK
Tel: 203 939 3708
w1nsk@arrl.org
Eastern Massachusetts
Jon McCombie, N1ILZ
Tel: (508) 246-4982
n1ilz@arrl.org
Maine
Phil Duggan, N1EP
n1ep@arrl.org
New Hampshire
Peter Stohrer, W1FEA
pstohrer1@gmail.com
Rhode Island
Bob Beaudet, W1YRC
Tel: 401-333-2129
w1yrc@arrl.org
Vermont
Paul N. Gayet, AA1SU
Evening Phone: 802-878-2215
AA1SU@arrl.org
Western Massachusetts
Raymond Lajoie, AA1SE
Daytime Phone: 978-549-5507
Evening Phone: 978-549-5507
aa1se@arrl.org