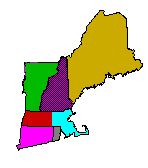 Local and regional operational activities of the American Radio Relay League are carried out through its field organization. The organization divides the 15 Divisions into 71 separate geographic regions called Sections.
The New England Division is comprised of seven sections:
Connecticut
Eastern Massachusetts
Maine
New Hampshire
Rhode Island
Vermont
Western Massachusetts
Each ARRL section has a team of one elected, volunteer Section Manager and several volunteer positions. Section Managers are elected by the members living within the section for a two-year term. The Section Manager appoints a team of volunteers. A Section Manager may optionally appoint one or more Assistant Section Managers.

Connecticut

Eastern Massachusetts Counties: Essex, Middlesex, Suffolk, Norfolk, Plymouth, Barnstable, Duke, and Nantucket

Maine

New Hampshire

Rhode Island


Vermont


Western Massachusetts Counties: Berkshire, Franklin, Hampshire, Hampden, and Worcester