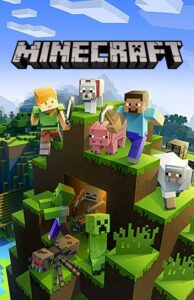 George Allison, K1IG, writes:
Minecraft is the largest selling video game of all time with over 240 million copies sold, and it's estimated that there are over 140 million active players world-wide, most of whom are under the age of 21. Thanks to a grant from the ARRL Foundation, Lucas, W1BTR, and the Police Amateur Radio Team (PART) of Westford, MA, have undertaken a project to incorporate ham radio functionality into the game; essentially to build a "ham radio simulator" that players can install as a game modification (the Radiocraft mod) and then use to build radios and antennas and make voice and CW contacts in the game with other players.
The project started in January, 2023, with the hiring of a professional coding team, and over the ensuing months, radios, antennas, solar panels, batteries, and even a solar weather station were developed and tested. Lucas debuted the project at the Northeast HamXposition in Marlborough, MA, in August 2023, with a capabilities presentation, an installation workshop, and a day-long demonstration in the lobby of the HamXposition site where attendees could actually play Minecraft with the ham radio mod on three computers.
Those three events, the presentation, workshop, and online demonstration, were notable because of the ages of the attendees; the average ages were about 18, and several were as young as eight, and included both boys and girls. Instead of parents bringing their kids to a ham radio show, the kids were excitedly escorting their parents to the Radiocraft events and learning how they could use ham radio to enhance their favorite game.
The lobby demonstration was continually active with youngsters playing the game, and notably, without any instruction. They were able to use the gaming skills they already had to build working radios and antennas, while most of the parents just watched in awe. Attendees of all ages were enthusiastic about the project. Lucas and his team look forward to appearing at the 2024 HamXposition with a larger display and presentation.
At this time, development of the project continues, and a small group of players is presently testing the mod before it goes into general release later this year. Final checks include searching for program bugs and polishing the user interfaces. When the mod is released it will be a free download and documentation will include links to ARRL and licensing information.