Introduction
The BIG E multi-state fair is held in West Springfield, Massachusetts from September 16 until October 2, 2022. Project Big E is an amateur radio exhibit at The BIG E. Planning for Project BIG E began in January 2021 and continued for 21 months until the start of The BIG E. The ham radio exhibit is located in booth #103 in the Better Living Center, the largest building at the fair at 123,000 square feet.
History

The Big E, formerly known as The Eastern States Exposition, is billed as "New England's Great State fair." It is the largest agricultural event on the eastern seaboard and the sixth-largest fair in the nation. In 2021, the Big E had 1.5 million visitors, and over 1.6 million visitors in 2019. [Wikipedia.org]
2022 Big E Special and State Days
Friday, Sept. 16 Military Appreciation Day • Be A Kid For A Day
Saturday, Sept. 17 Maine Day • 4-H/FFA Day
Sunday, Sept. 18 Storrowton Day
Monday, Sept. 19 Salute to West Springfield
Tuesday, Sept. 20 Rhode Island Day • Salute to Holyoke
Wednesday, Sept. 21 Connecticut Day
Thursday, Sept. 22 Massachusetts Day
Friday, Sept. 23 New Hampshire Day
Saturday, Sept. 24 Vermont Day
Sunday, Sept. 25 Grange Day • Chocolate Milk Day
Monday, Sept. 26 Salute to Springfield
Tuesday, Sept. 27 Salute to Chicopee
Wednesday, Sept. 28 Salute to Agawam
Thursday, Sept. 29 Salute to Westfield
Friday, Sept. 30 Harvest New England Day
Saturday, Oct. 1 October Fun Day
Sunday, Oct. 2 Salute to Special Olympics
2022 Project Big E

Project Big E (the Amateur Radio event) was conceived in January 2021 by Larry Krainson, W1AST, and other members of the Hampden County Radio Association. They envisioned a ham radio booth that would demonstrate the many aspects of modern ham radio, and provide an avenue for people to sign up for information and courses in their local area. According to W1AST, "If just one-tenth of one percent of attendees sign up for ham classes, that would be 1,600 names to distribute to all New England clubs. We would all benefit and grow ham radio."
Some of the Project's ideas include:
an EmComm display
D-STAR and/or other digital mobile mode demo
Digital HF modes on a big screen
A special event station (N1E) with unique QSL cards
SSB, CW and digital modes
Demonstrations of portable stations for field operation (i.e., Parks On The Air, Summits On The Air)
Highlight youth in ham radio
W1AST hopes that volunteers from different states' radio clubs will staff the booth during State Days and Theme Days.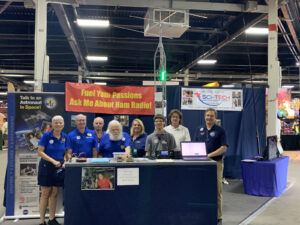 Project Big E has managed to secure a great location for the booth (#103) inside Door 6 of the Better Living Center, at the end of an isle near the restrooms. This will no doubt result in a large number of pedestrians walking by the booth.
Grant Funding
The Big E Project applied for and received a grant from the Amateur Radio Digital Communications, a private foundation that exists to support amateur radio and digital communication science and technology.
The monies will be used to help fund Project BIG E.
Special Event Station N1E
Project Big E and the Hampden County Radio Association (W1NY) requisitioned the 1×1 special event callsign "N1E" for use during the 17-day event. Through a generous donation from Remote Ham Radio, the N1E operators have access to remote stations throughout the entire event. Icom America has also made a generous loan of a radio transceiver to the Project.
A special QRZ.com page has been established for Special Event Station N1E.
Live ARISS Contact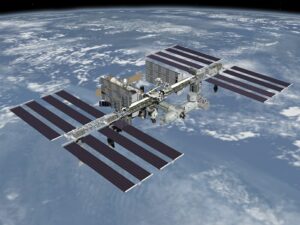 A related effort includes The BIG E Space Chat involving a scheduled ham radio contact from the fair with an astronaut aboard the International Space Station (ISS). The contact is organized through Amateur Radio on the International Space Station (ARISS). The contact is scheduled to take place in The Big E Arena on September 27. It will be live-streamed over the internet.
Around a dozen youth associated with New England Sci-Tech (NEST), a STEM learning and makerspace center in Natick, Massachusetts, have been selected to participate in The BIG E Space Chat. They will each get to ask the astronaut questions that will be relayed via an ARISS telebridge ground station — an amateur radio station that will establish radio contact with the ISS, and then relay the signals to the student group at The Big E.
In addition to making a once-in-a-lifetime contact from The Big E with an astronaut in space, the students are participating in in-person and virtual educational activities over a 12-month period. These experiences include building and launching a beginner-level model rocket, earning an amateur radio license, participating in a basic electronics course, and learning about astronomy, satellite communications, and other space-related science.
A live video stream of the contact will be carried on the NEST YouTube channel at www.youtube.com/watch?v=hdxnD8uF8t0.
Media Coverage
Project BIG E and The BIG E Space Chat are receiving good media coverage from both ham radio venues as well as the public.
The ARRL featured a news story on September 15. They also ran a piece in the September 15 issue of The ARRL Letter.
This Week in Amateur Radio podcast #229 devoted several minutes of coverage to The BIG E. The story begins about 8:00 minutes into the broadcast.
Southgate Amateur Radio News: http://www.southgatearc.org/news/2022/september/amateur-radio-takes-center-stage-at-the-big-e.htm
The general media has featured news stories about Project BIG E and The BIG E Space Chat. See BIG E Amateur Radio Media Hits.
How Can I Help?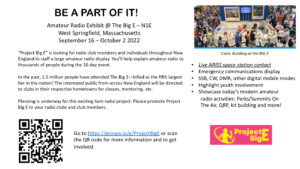 Such an undertaking can only succeed if there is a sufficient number of volunteers and radio clubs who agree to participate in the event. A special Groups.io mailing list group has been established to promote exchange of dialogue and ideas for the event. To join, send an email to ProjectBigE+subscribe@groups.io.
Please mention Project Big E and The BIG E Space Chat to your ham friends and fellow radio club members. Discuss it on your club nets. Send this press release to your club newsletter editor or webmaster.
Watch these spaces:
for additional information and updates.