It has been about 3 months since I became the ARRL New England Division Director. My focus has been on the following areas since January:
Building a relationship with and begin working with the ARRL Board Members, CEO, and Staff at ARRL Headquarters
Setting up communications processes with our division
Appointing four Assistant Directors to work on important issues and helping them to get their teams up and running
Working with the ARRL Foundation to get the new ARRL Club Grant Program ready to roll out
Enhancing focus within our division on legislation and regulations that impact Amateur Radio
All of this work would not be possible without the team of people who are working with me on these and other initiatives. We call ourselves the New England Director, Vice Director, Assistant Director (DVA) Team. I'd like to introduce you to the DVA Team:
Phil Temples, K9HI – New England Division Vice Director
Cory Golob, KU1U – Assistant Director, Emergency Communications and Public Service Activities
Rob Leiden, K1UI – Assistant Director, Spectrum Protection and Use
Anita Kemmerer, AB1QB – Assistant Director, Mentoring and Ham Development
Dan Norman, N0HF – Assistant Director, Youth Outreach and STEM Learning
I feel very fortunate to have this group of dedicated people working with me to serve New England Hams.
ARRL Update
David Minster, ARRL CEO has been hard at work filling key positions at ARRL HQ. David's recent hires include:
I've had the opportunity to spend some time with Steve and Josh and they are both top-notch picks. They bring innovative thinking to their respective roles and they both are extremely enthusiastic and hard workers.
A number of important things got accomplished at the ARRL Board of Directors Meeting in January. You can find more about the details in the Board Meeting Notes here. The highlights include:
Club Recognitions
The ARRL Board of Directors recognizes clubs for long-standing ARRL affiliation and service to the Amateur Radio community. Along with the ARRL Board of Directors, I am pleased to recognize the following New England Clubs for their many years of ARRL affiliation and service:
You can read about some of the many accomplishments of these clubs via the links above. We will be presenting each of these clubs with a plaque recognizing their long service and contributions at upcoming Hamfests and Club meetings.
Communications
The DVA Team believes that effective, 2-way communications are an essential part of serving members and Hams in New England. Our communications approach consists of three parts:
Quarterly Division Cabinet Meetings with Club Presidents, Section Managers and Field Staff Members, and other leaders
Triannual (every 4 months) Division Town Hall Meetings with all ARRL Members in New England
Frequent attendance at Club Meetings (at least 6 times a quarter for each DVA team member)
We held our first Cabinet Meeting on January 8th (see what was discussed here). Our next Cabinet Meeting is scheduled for April 16th. We are inviting members of the HQ Staff to these meetings so that they can share information on what they are doing and receive feedback directly from division leaders.
We held our first Town Hall Meeting on February 16th. Attendance was very good with over 200 in attendance. We provided an update on ARRL and New England Division activities and answered some 75 questions from the folks who attended. You can see what was discussed including a recording of the event here. We are planning to hold our next Town Hall Meeting in June.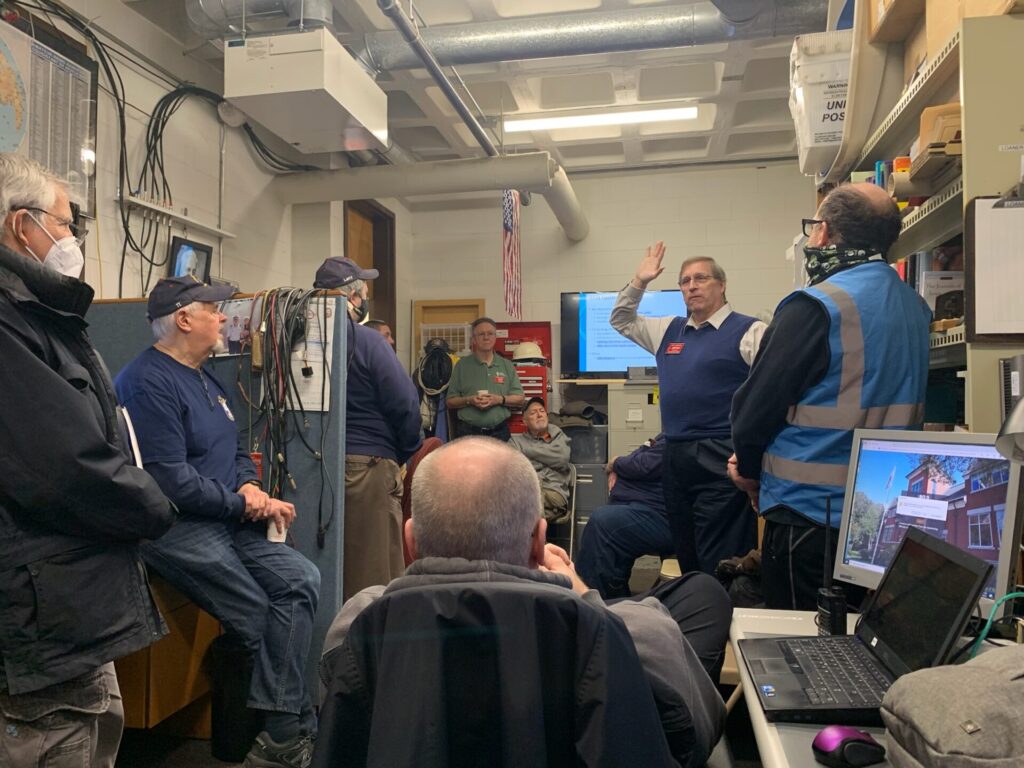 I've had a lot of fun attending some 11 club meetings so far this quarter. Our DVA team has also been attending many club meetings. We all find these meetings very helpful for keeping in touch with what Hams are doing in New England. We also want to be available to hear concerns and ideas that we can help with.
A special thanks to our Vice Director Phil, K9HI, who has built and continuously provides content for our division website. You can sign up to receive updates when we publish articles and information here by sharing your email address in the sidebar.
Assistant Director Teams
I heard concerns about many issues from ARRL Members and Hams in New England during the past 6 months. I have appointed four Assistant Directors (ADs) with the charter to bring people together to address some of the top concerns. Our initial Assistant Directors are:
Cory Golob, KU1U – Assistant Director, Emergency Communications and Public Service Activities
Rob Leiden, K1UI – Assistant Director, Spectrum Protection and Use
Anita Kemmerer, AB1QB – Assistant Director, Mentoring and Ham Development
Dan Norman, N0HF – Assistant Director, Youth Outreach and STEM Learning
You can learn more about our Assistant Directors here and here.
Our ADs have formed groups of folks interested in working together to solve problems and promote programs in their focus areas. Some of the work that is going on with the AD teams includes:
Sharing successful activities, programs, and tools (check out the AD pages on nediv.arrl.org)
Promoting activities and programs across the division
Encourage collaboration to create new and strengthen existing division-wide programs
Are you interested in being part of one or more of these teams? Check out the associated groups.io or contact our ADs at:
Hamfests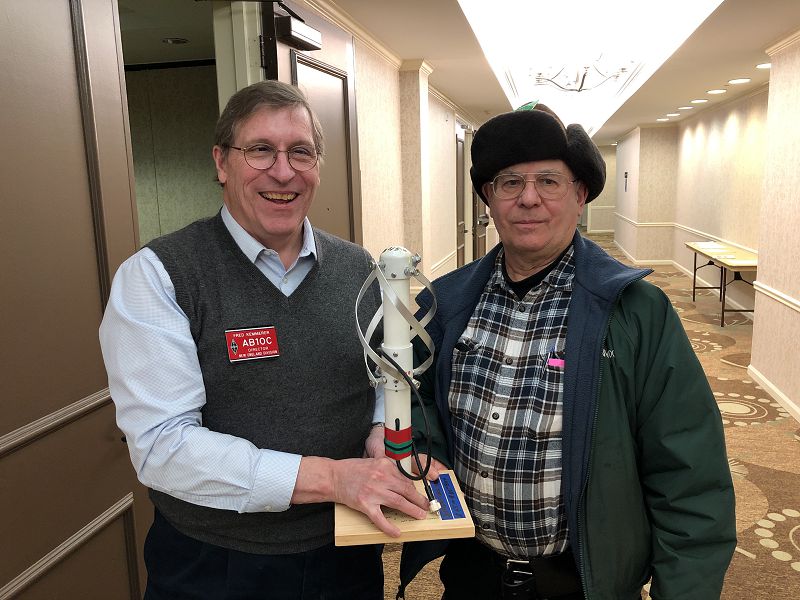 I have been enjoying attending Hamfests and Conventions during the past few months. I've attended Hamcation in Florida in February, HAM-CON (the VT State Convention) in March, and I'm planning to attend the Maine State Convention in April. In addition to doing ARRL Forums and providing updates at these events, I've very much enjoyed talking with Hams to understand what is on their minds and to hear about projects and ideas to improve Amateur Radio and the ARRL.
The ARRL provides a Hamfest and Convention sanctioning program. The benefits of ARRL Sanctioning include:
Your event will be listed online and in QST
Sanctioned ARRL Conventions will be listed in the ARRL Letter
You will receive ARRL prize certificates for use at your event
It's a good idea to apply for sanctioning early as this process can help you to avoid scheduling conflicts by letting other groups know that you are holding your event on a specific date(s).
Club Grant Program
As many of you probably know, I have a passion for all that Amateur Radio Clubs provide. Clubs are the cornerstone of mentoring, many Amateur Radio activities, youth outreach projects, and many other important parts of Amateur Radio.
I made it a point to take on a role in the planning work for the forthcoming ARRL Club Grant Program. I have been working as part of a team of ARRL and ARRL Foundation directors and leaders to define how the Club Grant Program will work. The work is proceeding well and we are planning to begin rolling out the details of the program in April. Does your club have a project that would benefit the Amateur Radio community and the public as well as your club? You might want to consider applying for an ARRL Club grant.
We are also looking for volunteers to serve as Club Mentors and Club Coaches. You can learn more about these volunteer roles here.
Focus on Legislation
With help from vigilant members in our division and Section Managers and State Government Liaisons in New England Sections, we have been working with Hams in New England to address pending legislation that would negatively impact Amateur Radio.
We are seeing bills emerge in several states in New England which are intended to protect people from health effects due to RF exposure from 5G commercial wireless networks. The most recent situation occurred with New Hampshire HB1644. This bill was written so broadly that it would have prohibited nearly all transmit antennas in residential areas. The bill would also establish a public registry where anyone who felt they were experiencing negative health effects due to RF exposure from nearby transmit antennas of any type could publicly identify the location of such antennas. With help from NH Section Manager Peter Stohrer, K1PJS, and NH State Government Liaison Bill Nelson, KA1PTW, we were able to mobilize NH Hams to file comments and testify at a hearing on this bill. At present, HB1644 has been sent back to Committee for further study and revision.
We have held meetings with the Section Managers and State Government Liaisons in New England to make them aware of the potential for similar bills to emerge in other states and to set up a process to share information and coordinate efforts to address such legislation going forward.
AB1OC's Ham Radio Activities
It's been a challenge during the past few months to find time to participate in the Amateur Radio activities that I enjoy. I've continued to support the Nashua Area Radio Society as Program Chairperson where I'm responsible for finding speakers for the club's monthly Membership Meetings and Tech Night training sessions. I've also been part of a team that taught both Technical and General License Training classes where we helped a total of 16 people earn their Amateur Radio License or upgrade.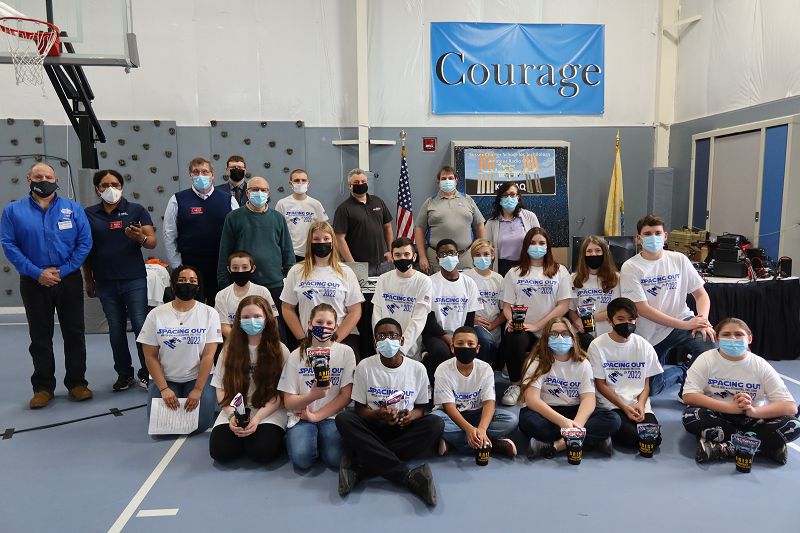 I've continued to be a mentor and ground station for the ARISS program. The school that I've been working with recently as their ARISS Mentor is located in Sussex County, NJ. They made contact with the ISS in February. I had the opportunity to join the group on contact day – it was an amazing experience!
I also had the opportunity to serve as the ARISS ground station for a group of scouts at a Jamboree in Victoria, Australia who made contact with astronaut Mark VandeHei, KG5GNP, on the ISS. You can read more about this contact here. I really enjoy working with young people around the world in this way to bring an amazing experience to them via Amateur Radio.
In between all of this, I've hosted some new Hams at our station to help them to get on the air and try various modes and bands. I've also been making contacts via Amateur Satellites and have been doing some meteor scatter and digital contacts on the 6m band. The 10 and 12-meter bands have been showing some decent DX activity on SSB and CW recently and I've had some fun there as well.
I hope to see you soon at a Hamfest, Club Meeting, Town Hall Meeting, or some other event in the near future. All the Best and 73,
Fred Kemmerer, AB1OC
ARRL New England Division Director
eMail: ab1oc@arrl.org