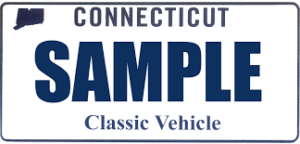 Mike Gruber, W1MG, writes:
"I've been working with my Connecticut State Senator to help make Amateur Radio call plates (and Purple Heart plates) available for Classic Vehicle plates in Connecticut.
"At this point, he has sent this to the General Assembly's Transportation Committee for consideration. This is a joint committee of legislatures, and they would be responsible for drafting the required amendment. The General Assembly (Connecticut's legislature) meets in February so time is of the essence.
"At this point, the Senator's aide has suggested that interested and concerned persons should contact members of the Transportation Committee to voice their support for this amendment. I had hoped to get some publicity for this from the ARRL but so far haven't heard anything. <…> If there is any interest at the ARRL in this, please let me know."
Interested parties are encouraged to contact their CT state representatives–especially if they sit on the Transportation Committee.
[Please see
Mike Gruber's synopsis
and
Sen. Kissel's letter to the Committee leadership
.]