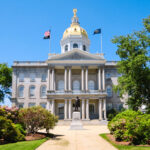 New Hampshire Section Manager Peter J Stohrer, K1PJS, writes on the NH ARRL Members List:
A bill (HB1644) limiting the use of 5G applications in certain areas of NH along with the creation of a RF Radiation Exposure Registry was recently introduced to the NH House. Because of the confusing nature of the bill and conflicting testimony the Science, Technology and Energy Committee overseeing the bill voted 17 to 4 to recommend to the House that the bill be sent to interim study. If this recommendation is adopted by the full House, likely next week, this bill will be dead for all intents and purposes for this biennium. A committee will be established, conduct a review, and receive public testimony over the summer and make a recommendation whether legislation of this nature is warranted or not. NH ARRL Leadership will be attending the meetings.
HB1644 in its current form will have unintended consequences far beyond 5G applications impacting all forms of wireless communications including amateur radio. NE Director Kemmerer, the NH Section Manager, and State Government Liaison met to discuss the issue and we encourage League members to contact their state representative to support the committee recommendation to send the bill to interim study. You can locate the email address of your representative by going to the following link:
http://www.gencourt.state.nh.us/house/members/
The full House meets on February 16th so now is the time to contact your legislator.
You can read the bill in its entirety:
http://www.gencourt.state.nh.us/bill_Status/billinfo.aspx?id=1725&inflect=2
——————————
————————————–
ARRL New Hampshire Section
Section Manager: Peter J Stohrer, K1PJS
k1pjs@arrl.org
——————————————————————–