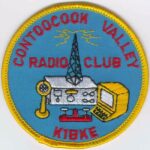 New Hampshire Section Manager Peter J Stohrer, K1PJS, writes on the NH ARRL Members List:
CVRC 2022 Indoor CVRC
Ham Radio Flea Market
Sunday March 20, 2022
The Henniker Community School
Henniker, NH (West of Concord)
Talk-in: Call K1BKE 146.895 (-600 kHz, PL: 100Hz)
Doors open at 8:00 AM (7:00 AM for sellers) and close at 2:00 PM
Grand Prize Raffle drawing at 1PM for Yaesu 2980 2 meter mobile.
Need not be present to win, just fill out your address on the back of your ticket
Admission: $5 for buyers, $10 for sellers.
Please note: There is no smoking on school property.
Admission price for sellers includes a free table, extra tables are $10 each. There is a limited supply of tables Electrical outlets will be on a
1st come,1st served basis. Questions or Table Registrations please
email Fest@k1bke.org
The V.E. session starts at 9:30 AM
(Registration starts at 9:00) No admittance after 9:30 AM
Contact John Moore (603)496-4482
Candidates must bring the current ARRL-VEC test fee of $15.00, FCC FRN, one photo ID, and one non-photo ID or a valid passport and the original and one photocopy of any amateur license or CSCE that you currently hold.
Refreshments Available!
Special Programs From
Pete Stohrer K1PJS
ARRL Forum 9a-10a
Bob Sletton KB1QV
Self Driving Cars 10a-11a
Dale Clement AF1T
Antennas 11a-12p
Directions from Concord
I-89 north to 202-9 exit left to 114 off ramp left on Rt 114 go to center of town turn right at flashing light. The school is the 5th building on the left. Use entrance in the rear of the school.
——————————————————————–
ARRL New Hampshire Section
Section Manager: Peter J Stohrer, K1PJS
k1pjs@arrl.org
——————————————————————–