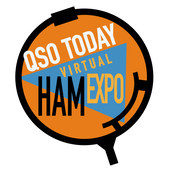 The QSO Today Virtual Ham Expo returns on March 12-13, 2022 and has become a twice yearly event.
Amateur radio is like a big circus. It has its main tent with three rings in the center. In those rings could be Contesting, DXing, and Rag Chewing. However, amateur radio now has a "midway of a thousand smaller tents" according to Eric Guth, 4Z1UG, founder of the QSO Today Virtual Ham Expo, and host of the QSO Today Podcast, an interview program featuring the most interesting amateur radio operators. It is exactly this midway that the "Expo" was founded to explore.
The Covid-19 Pandemic closed ham radio conventions, hamfests, and monthly meetings all across the World in 2020. It was because of these closures that Eric, 4Z1UG, got the idea to create an on-line, and virtual convention that has all of the elements of a real ham radio convention, similar to the most notable live conventions.
The First QSO Today Virtual Ham Expo was in August 2020 where over 15,000 amateurs attended on the Expo weekend, attending on their computers over the Internet instead of in-person. Over 80 presentations were made, with live Q&A on Zoom webinar, and attendees could come back over a 30 day on-demand period to view the recorded presentations that they missed.
We discovered something unique in August from surveys that we made following the expo. Sixty percent of the attendees, almost 9000 hams do not go to live expos, preferring to stay at home. The Covid-19 Pandemic has made this all the more important.
The Expo has also become the place to discover more niches in amateur radio through the presentations given at each one. In March 2021, while there was some difficulty with the platforms, over 6000 hams came and viewed almost 100,000 presentations from the over 80 that were offered in March. Our Expo in August 2021 had over 90 presentations in 8 tracks of amazing amateur radio content.