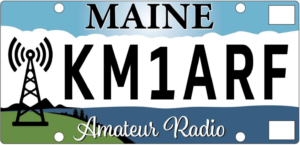 Maine Amateur Radio Foundation, Inc. is sponsoring a new ham radio vehicle registration plate. According to MARF, "purchasing this plate is an exciting way to show your enthusiasm for ham radio and to support it throughout the state of Maine.
"With the funds raised through the sale of this new specialty plate, the Foundation will be working with you and others like you to train new hams, provide the necessary equipment for community activity and emergency communications support and assist in the maintenance of our repeater infrastructure," writes MARF President Gary L. Gilman, N1ZNJ.
MARF set an original target date of fall 2020, but due to COVID-19 has moved back the date to the fall of 2021. "[MARF] will be working very hard to collect the necessary two thousand applications for the new registration plate to be issued. With your help, we will succeed in doing so."
The initial application fee for the registration is $30, five dollars of which are to cover the administrative cost of processing the license plate application. The thirty dollar fee is non-refundable. If MARF fails to reach the necessary two thousand applications, all application fees will be treated as a donation to the Foundation, and the money will be used to fund successful grant applicants within Maine.
According to MARF, the State of Maine requires four thousand active registrations per year to maintain a specialty plate. They encourage all Maine amateurs to order a set for each vehicle that is registered.
For more information, see: https://drive.google.com/file/d/1URVdgh7GKzmkcNWlR_BF4ELNHfZ4C8np/view?usp=sharing