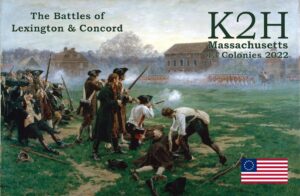 Larry Krainson, W1AST, writes:
It's 13 Colonies time again and that means Massachusetts K2H is looking for ham that would like to activate.
The special event runs 7 days from July 1 through July 7.
Team K2H is looking for ops. Last year we made over 21,300 QSOs during those 7 days. We are hoping to exceed that this year. Would you like to be part of Team K2H?
If yes, then go here and fill in the form:
Larry, W1AST will be in touch with you.
The last day to sign up is June 1, 2023.