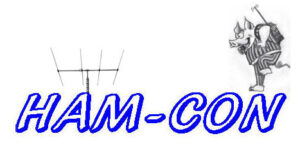 HAM-CON, the ARRL Vermont Convention will be Saturday, February 25th, 8AM-1:30 PM at the Hampton Inn Convention Center, off of I-89 Exit 16 in Colchester.
We would love to get everyone back to meeting LIVE at the convention again. If you are within 2-3 hours of travel, please do consider joining us live. This would include everyone in Vermont, Northern New York and much of New Hampshire. If you cannot travel for some reason, please do consider JOINING US ONLINE! Simply buy an advanced sale ticket (only $6) which will allow you join in and take part in all our forums and even view the forums afterwards. Information and tickets can be found at ham-con.org
Our theme for HAM-CON 2023 is "Getting On The Air" There are many facets to amateur radio, but the most popular and endearing activity is getting on the air and contacting other hams. Our lineup of forums and activities will emphasize just that.
If you are going to get on the air, you might as well be great at your craft! "Be The Best Operator You Can Be" with W1SJ will detail all the fine points of making all those QSO's. And, you don't have to sit at home in your basement to get on the air. "Get Out and Operate" with K1BIF will show how we make contacts from parks, summits, farms and even boats! And if that is not enough for you, "Operate From Anywhere Remotely" with W1VE will detail how you can access a ham shack anywhere on the planet from the comforts of home. There is nothing like working the world while driving on a long trip. "Operating an HF Mobile Station" with AB1OC will cover how to setup, build and operate an HF mobile station capable of working anyone. Experienced operators will tell you that there is a rhythm to making many contacts, much like a dance. K8ZT will describe this for us in "The Rhythm of the QSO." Some hams take their operating very seriously as they compete in contests. We'll explore the World Radio Team Championship, the Olympics of ham radio in "The WRTC Competitive Experience" with N9RV. We'll also have the 2023 running of the ARRL Forum and find out the latest from our national organization. And finally, how well do you know your ham radio trivia? Join us for the Millionaire Game Show where we will ask such questions and you may just win a cool (fake) million dollars!
Add to the above the flea market, Tech table, DMR table, W1V special event station, demonstrations and VE session and we have one heck of show. Be sure to buy your ticket early and be there! Again, look us up at ham-con.org for all the details on HAM-CON 2023, February 25th.