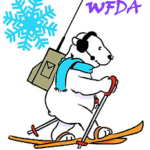 A number of radio clubs throughout New England are gearing up for the annual Winter Field Day event this weekend.
Winter Field Day is sponsored by the Winter Field Day Association. Complete rules can be found on the WFD website, at Winter Field Day. According to ARRL, "Combining this with ARRL's yearlong event, Volunteers On the Air, is a great way to make contacts that count for both activities and get new operators on the air. … Like the ARRL Field Day, bonus points are earned in several ways, including for using non-commercial power sources, operating from remote locations, making satellite contacts, and more."
The Granite State Amateur Radio Association is QRV for Winter Field Day. They will operate as "3 Oscar" under the call sign N1QC at their summer field day site, "Mike's Barn," 972 Back Mountain Road, Goffstown, New Hampshire. Setup begins around 10:30 AM on Saturday morning. According to Eric Pfeifer, N1JUR, "One brave soul and station will operate for the full 24 hours."
New England Sci-Tech
will participate in Winter Field Day from 2 to 9 PM on Saturday at 16 Tech Circle in Natick, Massachusetts. "We will stay warm and take a points loss but still have fun! Non-licensed adults and children can get on the air with one of our control operators."
New England Sci-Tech will also hold a number of other activities in conjunction with WFD: maker activities from 4 to 6 PM for children of members and visitors, and hands-on activities led by volunteers. "Make a meteorite necklace, make 3-D paper art, make an electronics gadget, make a laser-cut art project, make a woodworking project, and more." Also planned are thirty-minute planetarium shows at 5 and 7 PM, a pot luck dinner from 6 to 8 PM, and a ham radio "movie marathon" from 7 to 9 PM.
The
Twin State Radio Club
will operate in Winter Field Day on Blackwater Road in Canaan, New Hampshire. "In past years, we've put heat in the comm trailer, hung a 40-meter dipole, and put the mini-beam up on the tower trailer, which gives us the most popular contest bands," according to TSRC's Dave Colter, WA1ZCN. "We'll likely run two stations on generator power. Setup begins at 8am this Saturday, and the event starts at 2pm and runs for 24 hours. If you want to try HF operating and don't have the means at home (or the license,) this will be a good opportunity. Operating privileges will be those of the control operator present." Talk-in will be on the 145.33 repeater.
The
Hampden County Radio Association
(HCRA) and
Franklin County Amateur Radio Club
(FCARC) will mount its first Winter Field Day operation on Sunday from 9 AM until 2 PM using the call sign W1NY. The group will be set up at 1500 West Street, Amherst, MA. "Indoor restrooms are available, and food (from Atkins Farm) is a mile down the street and offers many delicious foods and treats. You are also welcome to bring something to share or for yourself." The group plans to operate from the upper parking lot. "Look for antennas and call signs on cars and hams. We shouldn't be hard to find." For details, contact W1BCC Brad Councilman (FCARC president) at
bc@councilman.com
or Larry Krainson (HCRA president) at
W1AST@arrl.net
.
Members of the
Boston Amateur Radio Club
are QRV for Winter Field Day and will camp out and operate from one of the Ponkapoag Adirondack Mountain Club cabins in the Blue Hills south of Boston. "This will be a blast!" writes BARC's Mindy Hull, KM1NDY. "It is imperative that you arrange this with me if you plan on going."