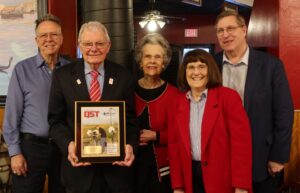 Joe Reisert, W1JR, of Amherst, New Hampshire, has been awarded the February 2022 QST Cover Plaque Award for his article "12-and 17-Meter Antenna Design." Joe was honored at a small reception by ARRL New England Division leaders on April 15, 2022 in Merrimack, New Hampshire.
An amateur for 71 years, Joe was first licensed as WN2HQL in 1951 while living in Wantagh, Long Island, New York.
Joe is one of the preeminent DXers in the world. He holds a DXCC award with 392/340 Mixed, 381/340 SSB, 353/339 CW, 340/336 Digital, 113/108 Satellite and 3171 DXCC Challenge. Among his many other honors, Joe is an A1 operator, a member of the First Class CW Operators Club, RSGB, and life member of ARRL and AMSAT. In 2014, Joe was elected to CQ Magazine's DX Hall of Fame.