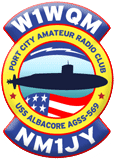 The Port City (NH) Amateur Radio Club is conducting a series of Amateur Extra study group meetings at the Piscataque Fish & Game Club in Greenland, NH. This past week, they met for approximately 1 1/2 hours. Students were asked to read several chapters from the ARRL Extra Class License Manual and come to class with one to two prepared questions for the group, "preferably a concept or idea with which you struggled during your reading."
"The group is fortunate to have Dr. Mike Carter, K8CN, with us this week as their instructor," writes Kirby Francis, KC1RWR. "Mike holds advanced degrees in Electrical Engineering and Computer Information systems, and is an Emeritus Professor of Electrical and Computer Engineering at UNH.
"For those who already hold the Extra License, if you have ever wanted to really understand the principles covered in this chapter, you'll never get a better chance. Along the way, your attendance will encourage the students in the class to keep their resolve in face of some daunting concepts.
"We will then progress to students' questions, and end each evening with a group trivia challenge taken directly from the exam questions on that week's subelements! Bring your cell phone to participate in the Trivia game."
According to KC1RWR, one of the goals of the study group is to "remove the apprehension and fear that may be preventing you from moving forward with your ham radio licensing, replacing it with a sense of community, fun, and self-confidence."