From ri-arrl.org: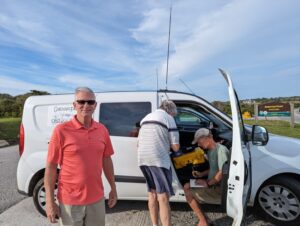 "I learned more from your POTA demo today than I learned as a new ham over the last year! Thank you!" –Mike, KC1NFG (visiting Newport and welcomed to join in and GOTA.)
Today's Newport County Radio Club (NCRC) POTA demo at Brenton Point Park was well attended by club members as well as a ham just passing by. All were curious to jump in and learn how to quickly deploy a portable antenna and POTA setup to get on the HF bands quickly and make contacts. Jim Garman, KC1QDZ, and Randy Jones, K8ZFJ, were ideal mentors, helping some make their first POTA QSOs.
From September 6-10, 2023, the NCRC is hosting a collaborative effort to activate all 52 Rhode Island POTA parks. For more information on POTA—Activate All RI and resources for getting started with Parks on the Air, please bookmark: https://ri-arrl.org/pota/.