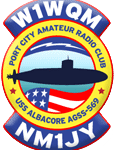 Kirby Francis, KC1RWR, writes on the Port City ARC mailing list:
Amateur Extra Study Group
Where: Piscataqua Fish & Game Club
When: Wednesday, July 19th, 6:30pm (plan for about an hour and a quarter duration).
Reading Assignment: ARRL Extra Class License Manual, Pages 1-1 through 2-12
(Note that Chapter 1 is an introduction, and Chapter 2 starts exam elements E2. Read both of these, although only Chapter 2 has questions to worry about).
Class Assignment: Please come to class with 1-2 prepared questions for the group, preferably a concept or idea with which you struggled during your reading.
Each class will begin a a brief discussion of the Subelements we'll be reviewing each week (E2A through E2E this week). For those in the club who have expertise, or feel qualified to teach certain subelements of material – please let me know, and we will give you 5-10 minutes to present. Please note that you will be scheduled during a week that this material is being covered.
We will then progress to students' questions, and end each evening with a group trivia challenge taken directly from the exam questions on that week's subelement! Bring your cell phone to participate in the Trivia game.
The goal of this class is to:
i) Reinforce habits of regular, applied engagement with the information you need to know for your Amateur Extra Exam
ii) Explain and apply this information using real-world examples, and the assistance of our club's Subject Matter Experts
iii) Remove the apprehension and fear that may be preventing you from moving forward with your Ham Radio licensing, replacing it with a sense of community, fun, and self-confidence!
It's so fun to move through this material with a group, and we look forward to seeing you all next Wednesday evening!