Eric Pfeifer N1JUR, writes on May 20, 2023 at 8:24 AM:

Looking at the forecast the rain is to start around 2:30/3pm. So I've decided that we're going to move up the time an hour (12 to 4pm) to get the event in before the rain comes.

Bear Brook has a covered pavilion so you can setup there if you want. Otherwise feel free to bring an easy up.

Also if you want to come earlier I will be there around 11:30am.

Hope to see you all there.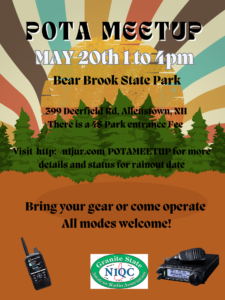 Eric Pfeifer, N1JUR, writes:
We are gathering on May 20th from 1 to 4 pm at Bear Brook State Park Pavilion (399 Deerfield Road, Allenstown, NH).
This is a great way to learn more about Parks on the Air (POTA), or maybe you're a Technician and want to get on the air (we'll be operating our club call N1QC).
We will have at least two stations set up, so if you prefer to come and operate, you are more than welcome. But bring your gear to share what you've been working on.
Please free free to spread the word, and you can download our flyer here.
If you have any questions, please email me at n1jur.nh@gmail.com.