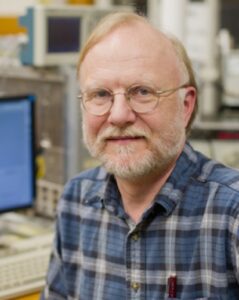 HamSCI will be playing a major role at the 2023 Dayton Hamvention to be held in Xenia, Ohio May 19-21, 2023 at the Greene County Fairgrounds. Booth talks, social hours and demonstrations will be given by ARISS (Amateur Radio on the International Space Station), HamSCI and YOTA (Youth on the Air).
Among the HamSCI booth talks at Hamvention, David McGaw, N1HAC, Canaan, New Hampshire, will present "Tracking Traveling Ionospheric Disturbances Using AM Broadcast Signals."
A physicist and electronics engineer, David McGaw has been connected with the Dartmouth Department of Physics and Astronomy since taking courses when he was a student at Hanover High School. McGaw is involved in designing and building scientific instruments for the study of the Earth's ionosphere, aurora and radiation belts. He holds an Amateur Extra class license and is a member of the Twin State Radio Club.