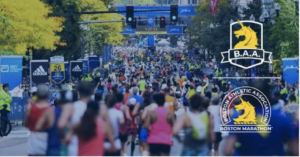 The Boston Marathon Amateur Radio team is still in need of about 50 additional volunteers to fill our nearly 300 assignments. The BAA volunteer registration deadline is this Friday, February 10 at 5:00 PM EST. The Boston Marathon will be taking place on Monday, April 17, 2023.
If you are still undecided, we encourage you to register now; you can discuss any questions you may have with us and if you decide this is not for you this year you can withdraw between now and the end of March.
If you had an experience last year that has not made you want to return this year, please reach out and we will do our best to make it right. We want every volunteer to enjoy their race day experience, but we understand that sometimes things happen.
If you have not previously volunteered and want to chat about what we do, what is expected of us, and what equipment you might need, please do not hesitate to drop us an email.
NOTE: The BAA will not have any specific COVID policies this year for vaccination or testing.
Registration Link (for new and returning volunteers):
BAA registration can be accessed via the BAA web site specifically in the "Athletes' Village" section.
https://www.baa.org/races/boston-marathon/volunteer/volunteer-registration
Step by Step Sign Up Guide:
https://hamradioboston.freshdesk.com/en/support/solutions/articles/44002389087-2023-volunteer-registration-step-by-step-guide. If you have any questions about the upcoming volunteer registration period, or the 2023 Marathon generally, please get in touch anytime. Volunteering at the Marathon is a big job and we appreciate the time and effort everyone puts into it. We're happy to do what we can to make your work fun, comfortable, and effective.
We look forward to seeing everyone again soon.
Thank you, and 73,
Boston Marathon Communications Committee
contact@HamRadioBoston.org
Please make sure to whitelist volunteer@baa.org and contact@HamRadioBoston.org to make sure you receive BAA and ARO committee communications.