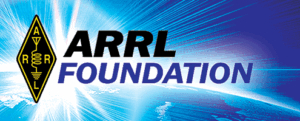 The Quaboag Valley Amateur Radio Club grant by the ARRL Foundation, which was awarded to the club in August, was designed to attract two very different groups to the amateur radio hobby and to club membership in local amateur radio clubs.
The first group addressed in the proposal was the adult population that may have had an interest in radio in the past but never had the opportunity to get licensed. This group now can afford to get entry level equipment but needs help getting started. They are the people with the intellectual curiosity and drive to enroll in adult education programs. The program was designed to utilize existing evening school education programs to offer licensing courses at their facilities. The grant received is helping to support the evening division Technician licensing course at Baypath Vocational Technical School in Charlton, Massachusetts. The grant is paying for training materials and a free handheld transceiver upon successful completion of the Technician license exam. The course is currently running with 18 students.
The second group will be for students at another vocational technical school; however it will be focused on tech school students whose training in various technical fields stimulated them to take advantage of a free program offered at their school that would lead to an Amateur Radio Technicians License. This course is being planned for April, 2023. The course, training materials and a pre-programmed handheld transceiver, to be awarded upon passing the Technician license exam at no cost to the student, will help to make the program affordable for interested students.
The program is being managed by Mert Kenniston, KC1KVA, and supported by Dennis Clowes, KC1LNL and Peter Baldracchi, KB1QGY, who are assisting in presentation of several of the instruction modules along with other club volunteers as "expert witnesses" for discussions. Further development of this model to attract new hams to our clubs and our hobby is expected to be an ongoing topic at future QVARC meetings.