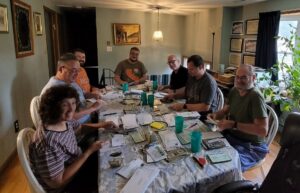 Larry Krainson, W1AST, writes:
On Sunday, September 4th, friends and members of Team K2H, the 13 Colonies Massachusetts team, got together to prepare QSL cards to send.
I had ordered 1,000 cards and hoped that it would be enough this year. The team made 21,373 QSOs this year—over 6,000 more than in 2021. That made us think we'd have many more QSL requests this year.
Our twenty-four K2H operators were kept busy. Most of the contacts were made using FT8 or other digital modes This year, many more contacts were DX.
When we were finished, we had prepared 970 cards to be mailed on Tuesday. That is far more than any other year.
Card requests continue to come in long after the special event. This year, I even received a request from 2020.
Team K2H had a blast making contacts during the 13 Colonies special event operation on July 1-7, 2022.
If you are interested in becoming an activator in 2023, please contact Larry, W1AST, at
hamop.w1ast@arrl.net
.