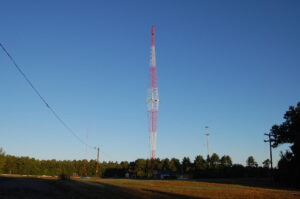 New Hampshire Section Manager Pete Stohrer, W1FEA, (formerly K1PJS) is organizing a 90th anniversary commemoration of radio station WFEA with a special event operation using his call sign. The station will operate on June 10 and 11, 2022 from the WFEA transmitter site in Merrimack, New Hampshire. Special QSL cards and certificates will be available for all contacts.
"Like many hams, Amateur Radio has provided a gateway to the field of electronics and ultimately to an occupation in broadcast engineering, employed by Saga Communications Inc, as Director of Engineering for stations WZID, WMLL and historic WFEA in Manchester. I also serve as Technical Director of NH Gospel Radio Inc. with stations WVNH in Concord and WANH in Meredith," writes Stohrer on his QRZ.com page.
WFEA operates on 1370 kHz. It was first licensed and on the air in 1932. The original Blaw Knox tower continues to radiate 90 years after installation.
For a complete decade by decade history of WFEA see Ed Brouder's excellent web site, WFEA History For more on the Blaw Knox Towers click on Jim Hawkings fine site Jim Hawkins Blaw Knox Towers.