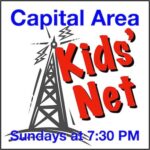 The first session of the Capital Area Kids' Net will take place on Sunday, May 22, at 7:30 pm. The target group for this net is elementary & middle school aged children who check in with an adult control operator, but any licensed amateurs are welcome to check in. The goal of the net is to provide a positive experience of amateur radio for kids in this age group with the hopes that they will want to further explore the hobby.
This will be a directed net where adult control operators will be asked to check in and say the first names of any children with them who wish to participate. Every week will feature a kid-friendly question to encourage a little more than just single word responses (The question on May 22 will be "What's you favorite kind of pizza?").
The net will take place every Sunday evening at 7:30 pm on the KA1OKQ repeater in Pembroke, NH (147.225 MHz, minus offset, 100Hz tone) and is sponsored by the Capital Area Repeater Society. This repeater has a fairly wide coverage area, so please help us spread the word!
If you would like to receive email announcements about this net, please send me a note at n1ji@arrl.net.
73,
Jock Irvine, N1JI