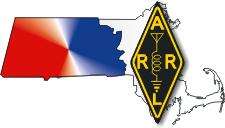 Ray Lajoie, AA1SE, writes in the Western Massachusetts ARRL Members List:
Hello everyone,
Gil Hayes, WK1H, has stepped down as our affiliated club coordinator due to job obligations. I wish to thank him for his contribution to the section.
I am pleased to announce that Larry Krainson, W1AST, has accepted the position as club coordinator effective March 22. Larry is currently the President of the Hamden County Radio Association. Larry is an ARRL Life Member and licensed since 1977. He also is the 13 Colonies special event manager for Massachusetts and is leading the Big E expo display coming in September. Larry's wife, Faye is always assisting him and also has a son who is an Eagle Scout and a ham.
Please join me in welcoming Larry to the section staff.
73
Ray-AA1SE
——————————————————————–
ARRL Western Massachusetts Section
Section Manager: Raymond P Lajoie, AA1SE
aa1se@arrl.org
——————————————————————–
To unsubscribe from messages, go to:
%oolink%