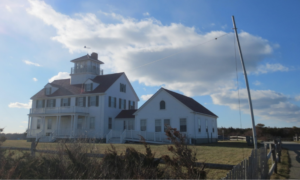 From K1USN Happenings, 1-21-2022:
Thanks to Barbara [N1NS] for organizing another event at the Coast Guard Station in Eastham [MA] on January 18, 2022. Special thanks to Russ, K1RTA, for bringing his portable trailer tower and to the other volunteers helping with setup. We had restrictions on the number of operators and visitors due to COVID. This was a CW only operation. There were two stations operated by N1DC and K1RV. We used Elecraft KX3/KXPA100 equipment at 100W with an OCF Dipole and a MyAntenna 80-10 end fed wire. The end fed antenna had the feed point at the Cupola railing with the wire sloping down toward the ocean tied to a fence post pole. The dipole was center supported by Russ K1RTA's portable trailer tower on the south side of the building.
We had some interstation interference that the coax stubs did not suppress. This may be related to antenna orientation and will have to be investigated further. Overall we were able to manage the situation.
Results
509 QSO's in 50 Countries. We also worked approximately 36 states and a few Canadian provinces.
Conditions were good especially on 15 and 20M. Europeans were loud. We completed a successful SKED on 20M with GB2GM in Poldhu England. <https://gb2gm.org/> We worked Thaire, W2APF, on vacation in Montserrat as VP2MDX on several bands. Check out the pictures and videos on Facebook : <https://www.facebook.com/KM1CC>.
We hope to operate again in April for International Marconi Day.
73,
Rick N1DC