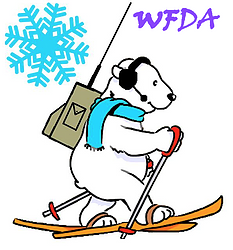 Amateurs from across New England are preparing to brave winter temperatures on the weekend of January 29-30 to participate in the annual Winter Field Day (WFD) event.
The New England Sci-Tech ARS (STARS) in Natick, Massachusetts is busy making plans to set up a station for the event.
Members of the Twin State Radio Club in Canaan, New Hampshire are discussing a WFD club operation, per the club's December, 2021 meeting minutes.
Maine Section Manager Phil Duggan, N1EP, writes: "My local club [the Maine Ham Radio Society] will be participating in the Winter Field Day event. This should be a lot of fun, and good practice for this summer's ARRL Field Day!"
"The Barnstable ARC and Falmouth ARA [Cape Cod, Massachusetts] plan to partner up for Winter Field Day," writes Assistant Director Rob Leiden, K1UI. "Falmouth has a beautifully equipped mobile system that may be the headquarters. The effort is still in the planning stages."
The WFD operation at the Newport County RC in Rhode Island is being headed up by John Vecoli, KC1KOO. According to NCRC President Nancy Austin, KC1NEK, "John is again taking a huge leadership role with planning and logging."
Drop me an email or radiogram if your club is planning to operate in the 2022 Winter Field Day event.
73,
Phil Temples, K9HI
k9hi@arrl.org