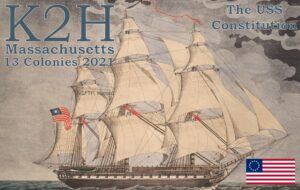 Larry Krainson, W1AST, writes:
Are you looking for that perfect, post Field Day ham radio activity? Then working the 13 Colonies special event stations is perfect for you!
Each July 1 through July 7, the 13 original colony states activate on all bands and modes for you to work them. Plus you can chase the three extra 13 Colonies stations where there is one each in Philadelphia, England and France.
This is a very fun activity. The action the first few days can create some overwhelming pile ups. If you can not get through, please be patient and try again later or another day. All the ops are trying to work everyone they can hear. They want to work you and will make every effort to do so.
If you work them all, it's called a "clean sweep." You can earn a certificate by sending $5 to KU2US. You can also send an SASE to each of the states to get back a unique QSL card. Each year there is a different theme and a new card is created. Combining the certificate with the QSL cards makes for some fancy wall paper!
But you can receive a certificate by working just one of the 13 colony stations. You do not need a clean sweep to get a certificate.
This year Massachusetts will be active once again as K2H. There are 20 operators all over the state. You'll hear us on CW, SSB, FT8 and other modes. Work us and send in your SASE QSL request to the info on the K2H QRZ.com page.
Team K2H looks forward to hearing and working you on the bands between July 1 and July 7, 2021!