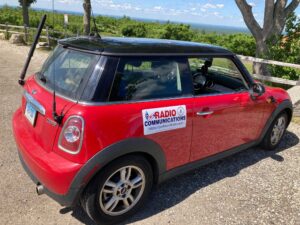 James Surprenant, AB1Q, writes on the Meriden ARC Facebook page:
Thanks to everyone who worked or tried to work my first POTA activation today at Mt. Agamenticus in Ogunquit, ME (K-8448).
In two hours I made 18 contacts, not stellar, but not bad. All contacts were on 40M at 7.232 MHz, running 100 watts from my mobile installed FT891 to either a Buddistick or my lip mounted ATAS-120 on the rear hatch of my MINI.
5 contacts were with Ontario stations, 4 were with NY operators, 2 with ME and PA stations , and 1 each with hams in DE, MD, NJ, OH and TN.
It was an absolutely gorgeous morning atop the mountain (well, the peak is less 1000 feet ASL, but who am I to judge?). Mega thanks to KC1NQE, NZ1J and WB8IMY for showing me the way!
This could become habit forming!
73 de AB1DQ/James