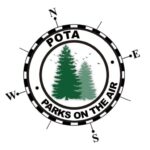 Several Parks On The Air (POTA) stations are currently on the air in New England, according to the POTA.app website.
KC1FIH is operating from Haddam Meadows State Park in Connecticut (K-1674). Jeff was spotted on 7248 kHz.
In New Hampshire, Harry, W1HMM, is QRV from Urban Forestry Center State Forest (K-4973) on 14.303 kHz.
KC1NDQ, Fran, and Mike, KC1LFF, are operating from Colt State Park K-2872 in Bristol, Rhode Island on 7246 kHz. According to their Facebook post, it's Mike's first HF contact! [See also:
BCRA POTA Operation at Colt State Park, Bristol, RI, June 5, 2021
]