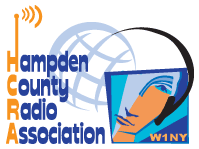 The Hampden County Radio Association will hold a five-week Technician licensing class where "you can learn everything you need to earn your (entry-level) FCC Amateur Radio license."
The class will run from February 3 to March 3, 2021 from 7-9 PM via Zoom.
Pre-registration is required at <http://www.hcra.org/licensing-classes>.
For more information, contact Mike DeChristopher, N1TA, at <mfdechristopher@gmail.com>.