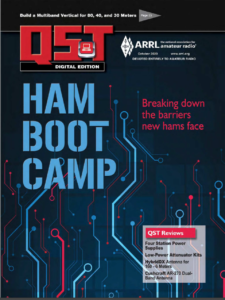 Ham Bootcamp Fall 2020 was a great success, according to Nashua Area Radio Society President Fred Kemmerer, AB1OC. Ham Bootcamp is held twice a year by the Nashua Area Radio Society in conjunction with their Ham Radio Licensing Program.
Kemmerer reports that 269 people registered for the daylong event with over 200 logged into the Zoom session for most of the day. Some highlights included live contacts on the HF bands, lots of videos, and "some great questions and answers during the session."
"We conducted an online survey of all of the folks who participated, and the feedback is overwhelmingly positive," he adds.
Ham Bootcamp was truly a national event. A breakdown by geographic region shows the percentage of attendees per region:
MA/NH: 29%
Northeast: 18%
Southeast: 15%
West: 15%
Midwest: 13%
Southwest: 8%
Hawaii/Alaska/Canada: 2%
AB1OC reports that over half of the "Bootcampers" had General Class or higher licenses. "It was also great to see the approximately ten percent of registrants who did not yet have a license."
Most of those who attended Ham Bootcamp learned about it from the recent article in QST, reports Kemmerer. "The article plus the great work that the ARRL did in follow-up through their website accounted for some 60 percent of our participants. Ham Nation was next (10 percent) followed by various web properties and social media sites. Word of mouth referrals were also strong in total, accounting for 19% of registrants."
The Nashua Area Radio Society is experiencing a flood of license class registrations and memberships in their organization in the aftermath of the Bootcamp event.
"A big THANK YOU to the HamXposition team for helping us to promote Ham Bootcamp," says Kemmerer. "We are planning another online Bootcamp in the spring after our license classes are completed."