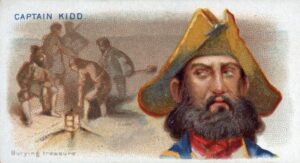 From the Woodmont ARA website:
Join us for this exclusive special events station where you'll have the chance to hone your radio skills and track the lost treasure of Captain William Kidd! Legend has it that the treasure is buried right off of the coast of Milford, Connecticut, near Charles Island. Event will be hosted by the Woodmont Amateur Radio Association. Come be a part of history.
Dates: Saturday, Oct 24, 2020
Time: 1100Z-1700Z
Location: Charles Island, Milford, CT.
Frequencies: 50.885 28.885 14.285 7.285. QSL
Event Call Sign: K1D
For more information, please contact Ed Rhodes (warapres@gmail.com).