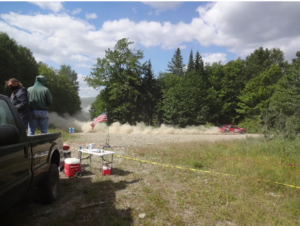 New England Forest Rally (NEFR) – by Stan Pozerski, KD1LE
The last week of July I embarked on the most ambitious public service activity of my amateur radio life, the New England Forest Rally (NEFR).
I heard about the NEFR many years ago when I saw a presentation about it and the Mt Washington Climb to the Clouds more than fifteen years ago. I was reminded more recently by a presentation at the last Boxboro Convention in 2019 by Tim Carter W3ATB (See Tim's website New England Forest Rally Ham Radio | W3ATB . After Tim's presentation I was convinced, I wanted to participate so I put my name on the email list and waited. Because of Covid I had to wait two years, but finally this year it happened. The rally is based at the Sunday River ski resort in Newry, Maine. The event stages take place in forest lands on the Maine-New Hampshire border some twenty miles from the Canadian border, so it not a trivial thing to prepare for. Eighty-four cars were entered in the event this year and they raced on fourteen stages located in different forest areas over the two days. These races are done on unpaved logging roads in remote areas. You need to bring everything you might need to communicate over distances of up to a dozen miles on VHF. For the first time this year Hf was used on two of the stages because of terrain challenges like mountains. Most of the rest of the fourteen stages can be managed with a VHF mobile radio system though at some a better antenna elevated on a mast or tree could be needed. Though you may be at a location with spectators, you are the lone communicator. You may also be the only person at a location several miles from the next position. Any equipment you don't bring you have to work without. Remember, this is forest land, besides all the possible radio equipment you might need there was a suggested of about thirty items you might need besides food and water like; insect repellant, toilet paper, some way to launch antennas, mow grass for a parking space, fire extinguisher, first aid kit, hammer, shovel, etcetera. The team working the stage requiring HF had advance knowledge of their assignment and equipment requirements. The other three teams just had to be prepared for whatever their location required. Depending on the stage you were assigned to, you may need to set up in the morning for one stage and then breakdown, travel some number of miles and set up for another stage. I was fortunate to be assigned to a team that supported two long stages so we set up for the day on each of the race days, Friday and Saturday. Even with that benefit we headed out of Sunday River Ski Resort at six in the morning Saturday morning and didn't get back till eight PM that evening. In addition to the nearly four-hundred-mile round trip to Sunday River, I drove almost three hundred more miles over the two days getting to and from the stage locations.
There are many videos if you search for NEFR but for some video of this year's rally go to (1) New England Forest Rally 2021 – Crashes, Close Calls, and Catastrophe – Bing video
There are significant challenges to communicating for this event one being the distances and the other that some of the stages go around mountains, hence the HF. These areas have no cell phone coverage, and all support like EMS, fire or towing services must be brought in for the event as it is on forest land with only dirt lumber roads.
The forty-five Hams came from the New England states, NY, PA, VA, CO and FL (by the FCC database). Hams from Mass that I saw were Steve W3EVE, Paul W1SEX, Bob WA1OEZ. Other Mass Hams, at least by call sign and the FCC database were; W1FOY, AB1TJ, KB1WLY, KB1LYJ, KB1LPW, K1DSL, KF5ZSV, KC1CBR, AC1BC, KC1DRH, KB1YAK.
The rally was great practice for emergency communications, but it was not a vacation weekend. Friday, the first day, meetings started at seven AM after which everyone caravanned to the first stages. Saturday, we met on a main road near Sunday River at six AM to trek to the further away stage locations. Things like breakfast, supper, and refueling had to be done outside these hours.
Stan KD1LE