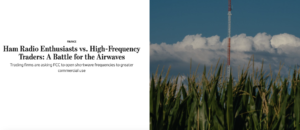 From ri-arrl.org:
[Blackstone Valley ARC] member quoted in Wall Street Journal article – "Ham Radio Enthusiasts vs. High-Frequency Traders: A Battle for the Airwaves" (August 5, 2023)
Congrats to (BVARC) Blackstone Valley Amateur Radio Club for this news, shared by Bob Beaudet, W1YRC:
Greetings all:
Our fellow BVARC member and past president, Matt, NA1Q, made a comment to the Wall Street Journal regarding the recent request by investment firms to run up to 20 kW on frequencies close to amateur bands.
I think this is a first for BVARC. Congrats Matt.