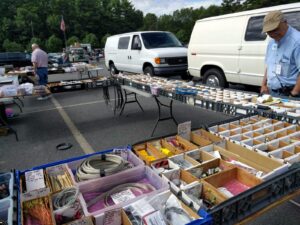 The 2023 hamfest season is ramping up.
Keep up on the latest ARRL-sanctioned hamfests, fleamarkets and conventions at <https://www.arrl.org/hamfests/search/Location.division_id:NE>.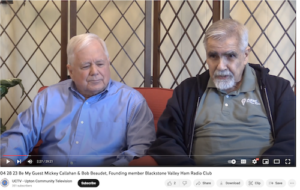 Blackstone Valley ARC (BVARC) member and Rhode Island Section Manager Bob Beaudet, W1YRC, and BVARC member Mickey Callahan were featured in a recent 30-minute interview on "Be My Guest" on the local Upton, MA community television channel. They spoke about amateur radio. Kudos to Bob and Mickey.
Dear ARRL Affiliated Club,
This Monday, May 1, ARRL will launch a survey for members, encouraging their participation as we consider a dues increase.
The survey will include some short questions about raising dues and modifying the way some membership benefits are bundled. The survey will also include an opportunity for members to share their feedback.

The participation of every member is important. Please encourage all the ARRL members in your radio club to complete the survey in May.

The survey will open on May 1 at www.arrl.org/take-dues-survey. This is a member-only page. Members need to be logged into the ARRL website to take the survey. Members who are not logged in may select the Login button on the top of the web page, and they will be prompted to enter their ARRL website username and password. If they have not logged in since April 2022, they should use these Login Instructions.
Thank you in advance for urging all ARRL members to complete the survey.
73
Mike Walters, W8ZY
ARRL Field Services Manager