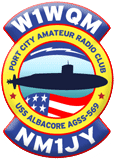 Sherry Brooks, N1NSB, writes on the Port City ARC mailing list:
The Cisco Brewers Portsmouth 5K fundraiser for The Krempels Center will be held on Sunday, May 28th 2023. The point person for this is Derek, KB1LXX.
Date: May 28
Time: 07:00 until about 11:00
Location: Cisco Brewery Pease Trade Port.
Typically, the volunteers have been in charge of directing traffic for parking cars.
The VIP section is already sold out, so I think the parking will be pretty busy this year.
Click Sign up here: Sign Up Here.