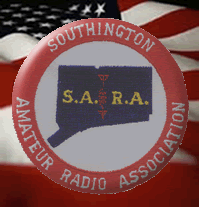 The Southington (CT) Amateur Radio Association will conduct its annual flea market on Sunday, March 26, 2023 from 8:30 AM to 12 PM at the Southington High School, 720 Pleasant Street, in Southington, CT. The flea will feature ham radio equipment, electronics, computers, and more.
Six feet linear table space costs $20 in advance; checks must be received before the day of the flea market. Day of the flea market, spaces are $25. Additional persons helping pay $7.00 as general admission. (Be fair!) Children under the age of 12 free are admitted free. Doors open for all vendors unloading at 6:15am.
The flea also features an ARES Spring Meeting.
For further info contact Bob, K1HSN, at 860-628-4808
Web site info www.chetbacon.com/sara/
Email: W1ECV@ARRL.NET
Download the flyer at <http://www.chetbacon.com/SARAflea2023.pdf>.