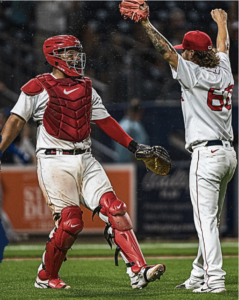 From New England Sci-Tech ARS News, March 14, 2023:
New England Sci-Tech/Sci-Tech Amateur Radio Society (STARS) [in Natick, MA] has been invited to run a STEM activity table at [Minor League Worcester Red Sox ("WooSox") games in Worcester, MA] both pre-game and during the game on July 26, Aug 9, and Aug 16. This is a great opportunity to showcase radio as a STEM activity. Bob, K5TEC, can help organize but cannot attend. Looking for two volunteers per game. Your travel, parking, and snacks allowance will be reimbursed.
Here are the details given to us:
"As far as placement in the ballpark, we have a decent amount of flexibility based on the types of activities and requirements you have.
"We could place activities in more heavily trafficked areas of the concourse with people constantly coming through and stopping by for a few minutes; or we could place activities on Plymouth and Summit St., which fall within the ballpark on game days but provide more space and calm from the hustle and bustle of the concourse for a more in-depth showcase. And we would be able to provide tables and electricity if needed.
"I think ideally we would love to provide both pregame and in-game activities if possible. I could easily imagine us planning a pregame showcase for a larger group of kids, and then perhaps some smaller tabling activations in a couple of places throughout the ballpark.
"All of this is to say that we are very flexible, and open to the ideas and expertise that you could provide!"