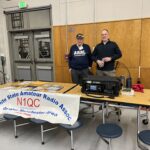 On Thursday evening, February 2, the Granite State Amateur Radio Association participated in an inaugural event at Milford High School called Milford Applied Technology CTE. Samantha Belcourt-Director, Jennifer DiMaria-Career Development Specialist, and Frank Xydias-engineering and STEM educator, hosted the event. U.S. Congress representative Ann Kuster participated in the opening remarks.
Approximately fifteen exhibitors, mostly local high-tech companies, community colleges, and universities, had exhibits and handouts. Also, tours of the facility were provided, including the precision machining shop, 3-D printing, and construction technology areas. Good food was offered by Windows on West Street, a student-operated restaurant that serves as a real-life course for students serving meals to the greater community two days a week.
The GSARA table included an operating Icom IC-7300 HF station in a "go box" with an outdoor CrankIR portable vertical antenna and various hand-held VHF radios. Numerous hand-outs were provided by ARRL (Steve Goodgame, K5ATA, Education and Learning Manager), including Why Should You Give Amateur Radio a Try? and What Amateur Radio Can Do for Your School and Students. Students, parents, and teachers learned about our hobby and how it can initiate a passion for exciting, well-paying technical careers. GSARA provided other material.
Support for the club effort was provided by: Bill, W1WRA; Bill, KE1G; Eric, N1JUR; John, K1XF; Mike, W1EAA; Ryan, W1SNH; and Tom, AC1J.