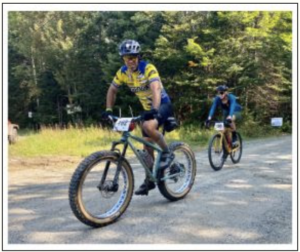 From Nov. 15, 2022 ARRL Club News, by Phil Duggan, N1EP
On September 10, nearly 200 riders entered the seventh annual Northwoods Gravel Grind in the Rangeley area of Maine, which encompassed parts of Franklin and Somerset counties. The course included 35-, 50-, and 68-mile loops.
The riders were not out there in the northwoods alone. Besides deer, moose, and bear, there were about 15 amateur radio operators assigned to various locations and in sweep vehicles throughout the course. Franklin County ARES and friends made sure important safety and logistical information was relayed to net control, and they did this by 2-meter simplex!
Many of the hams were using their mobile radios in vehicles with mag-mount antennas or similar aerials. Several hams set up external J-pole or high-gain antennas 20 feet or higher at key locations, and they were invaluable in relaying communications if net control (Randy Gauvin, KB1RDG, and Ruth Gauvin, KB1SBZ) couldn't hear a mobile or portable station.
I had the privilege of helping. It was enjoyable to be out in the woods listening to the call of the loons, as I was assigned to Loon Lake Road, right next to Loon Lake. Franklin County ARES Emergency Coordinator Russ Norris, KA1FKC, stopped by and chatted with me for a while. Have you ever seen his vehicle? There is no doubt he is a ham radio operator! And I absolutely loved his pooch, Mabel, who wore a fancy harness labeled ARES.
Many times throughout the race, riders would thank me for being there, and I am sure the other hams got this feedback as well. Public service events such as this promote our hobby in a positive way. They also help us hone our emergency communications skills. If you have never volunteered to help in such events, you should consider doing so. It's rewarding and fun. You can contact me at n1ep@arrl.org or ARRL New England Division Assistant Director for Emergency Communications and Public Service Cory Golob, KU1U, at ku1u@nediv.arrl.org, and we can share when public service events need hams.
Hams that participated in this year's event included KA1FKC, KB1RDG, KB1SBZ, AA1XD, WA1KLI, N1TCJ, KB1YES, NT1N, KC1LGJ, KC1ROC, N1EP, KC1RID, K1OK, K1NEO, and N1TCJ.