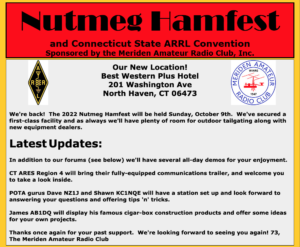 The Nutmeg Hamfest is Back!
October 9th, 2022.
Great New Location:
Best Western Hotel
201 Washington Ave (US Route 5)
North Haven, CT 06473
In addition to our forums (see our Web Site) we'll have several all-day demos for your enjoyment.
CT ARES Region 4 will bring their fully-equipped communications trailer, and welcome you to take a look inside.
POTA gurus Dave, NZ1J, and Shawn, KC1NQE, will have a station set up and look forward to answering your questions and offering tips 'n' tricks.
James AB1DQ will display his famous cigar-box construction products and offer some ideas for your own projects.
We're proud to once again host the ARRL Connecticut Section Convention, too.
Don't miss Southern New England's Biggest and Best Hamfest.
Attention Vendors: We still have a few inside tables available. Plenty of room for tailgating, too.
All the details are on our website.