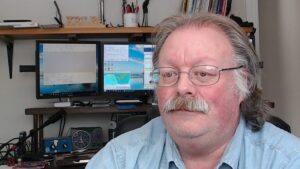 We caught up with Ray Lajoie, AA1SE, who is heavily involved with "Project Big E," the ham radio display booth showcasing modern Amateur Radio in West Springfield, Massachusetts from September 16 to October 2, 2022; and the related "BIG E Space Chat," an ARISS contact scheduled to take place from The BIG E Exhibition/Fair sometime between September 26 and 29.
Q: What is your involvement with Project Big E and BIG E Space Chat?
AA1SE:
I'm currently supporting Larry Krainson, W1AST, with the booth setup as well as constructing equipment for displays. I'm also working with Fred Kemmerer, AB1OC, to help coordinate the technical aspects of the ARISS (Amateur Radio on the International Space Station) contact. Finally, I'll fill in and staff the booth in the event someone is unable to work their shift.
Q: What are some of the technical aspects you're working on?
AA1SE:
I'm making sure that our pre-contact audio-video and live presentation is choreographed and well-timed. I'm also ensuring that all the connections—telebridge, telephone, and internet, and sound—are tested ahead of time and that there won't be any failures in the arena or the booth.
Q: What happens if there is inclement weather?
AA1SE:
ARISS requires that we have contingency plans in place. In the event of inclement weather, we will move the BIG E Space Chat inside to the booth area in the Better Living Center.
Q: How did you get involved in this project?
AA1SE:
I was volunteered! Seriously though—I am the Western Massachusetts Section Manager, and I feel a responsibility to help out in any way since it involves my section. Larry, W1AST, and the Hampden County Radio Association took on a huge challenge and I want to make sure that he and the club have my full support.
Q: With whom are you working?
AA1SE:
The project involves a number of collaborative partners. I'm working with Bob Phinney, K5TEC, of New England Sci-Tech in Natick, Massachusetts. Also, the ARISS program. Black Helicopter Creative are our media partners. They are donating their services to help produce the pre-contact show. I'm also working with the Mellowship camera and production crew for Eastern States Exposition.
Q: Have you done anything like this before?
AA1SE:
No. While I have experience with audio/video working for Comcast, I've never done anything on such a large scale. The choreography will provide a unique challenge for me.
Q: What do you hope will come from this experience?
AA1SE:
It's my hope that Project BIG E and The BIG E Space Chat will provide entertaining and informative content which will inform the general public about Amateur Radio and have a positive impact on youth and STEM education.