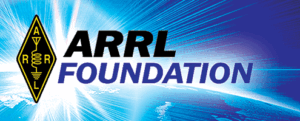 The ARRL Foundation Board of Directors has approved the recipients of the 2022 ARRL Foundation Scholarships as recommended by the Scholarship Committee. Foundation Scholarships totaling $921,250 will be awarded to 139 deserving radio amateurs pursuing higher education. Individual scholarship awards range from $500 to $25,000. Several young radio amateur recipients reside in New England:
Amateur Radio Digital Communications (ARDC) Scholarships:
Abigail Finchum, AB1BY, of Nashua, New Hampshire ($25,000)
Jherica Goodgame, KI5HTA, of Avon, Connecticut ($15,000)
Michael Lefebvre, N1MPL, of Morris, Connecticut ($15,000)
Matthew Mowerson, KC1IIL, of Wallingford, Connecticut ($5,000)
The East Coast Amateur Radio Service (ECARS) Scholarships, $2,500 each:
Julie Knappik, KB1YTT, of Raynham, Massachusetts
Matthew MacKenzie, KC1PXL, of East Bridgewater, Massachusetts
Lee Schuett, KB1ETR, of Lebanon, Connecticut
The FEMARA Scholarships, $2,000 each:
Elizabeth Hull, N1LIZ, of Hancock, New Hampshire
Sarah Hull, W1SJH, of Hancock, New Hampshire
Simon Schwartz, KC1PYK, of Newton, Massachusetts
Megan Wagner, KC1FGH, of Westford, Massachusetts
The New England Amateur Radio Festival (NEAR-Fest) Scholarship, $1,500:
Yettive Crestohl, K1TG, of Marblehead, Massachusetts
The RFinder LLC — Arthur L. Greenberg, W2LH, and Madeline Greenberg, W2EEO, Memorial Scholarship, $1,000:
Dahnesh Upton, KB1OTB, of Mount Vernon, New Hampshire
A full list of scholarship recipients can be viewed at <http://arrl.org/news/arrl-foundation-announces-2022-scholarship-awards>.
Congratulations to all the recipients, and best wishes for success in their higher educational pursuits.