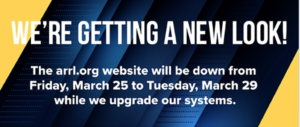 Early next week, our homepage will have a new look. You'll also notice a new streamlined menu to help you quickly find what you need.
What this means to you:
The arrl.org website and store will be unavailable from Friday, March 25 at 4 pm (ET) to Tuesday, March 29 at 8 am (ET) as we change over to the new system.
During this time, the following actions will be limited: Online DXCC (single sign on capability), LoTW (member verification), PageSuite (access to digital magazines), and access to The ARRL Learning Center. ARRL.net email forwarding will still be functioning.
Your Member Profile Page will be easier to update and navigate. Your existing usernames will be in the system, but for your security, you will need to create a new password the first time you access your profile.
A consolidated checkout lets you renew, donate, and shop all in one transaction!
Need help?
We're here for you! Call us (888-277-5289) Monday – Thursday from 8 am – 7 pm (ET) and on Friday from 8 am – 5 pm (ET) or email us at membership@arrl.org.
Have comments on the new online experience?
Let us know what you like about our new look and your suggestions for future updates at members@arrl.org.