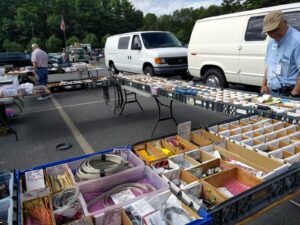 ARRL New England Director Fred Kemmerer, AB1OC, has approved several ARRL-sanctioned hamfests and conventions for 2022:
The Androscoggin Amateur Radio Club will host the ARRL Maine State Convention in Lewiston on April 1- 2, 2022. Details can be found at http://w1npp.org.
The Port City Amateur Radio Club has received approval for its Seacoast Amateur Radio Flea Market to be an ARRL-sanctioned hamfest in Hampton, New Hampshire, on April 9. More info is available at http://www.w1wqm.org.
The Radio Amateur Society of Norwich, Connecticut, will host an ARRL hamfest in Gales Ferry on April 23, 2022. For more information, visit https://rason.org.
The Southern Berkshire Amateur Radio Club will hold an ARRL-sanctioned hamfest in Goshen, Connecticut on May 21, 2022. More information can be found at http://www.sberk.org.
The Federation of Eastern Massachusetts Amateur Radio Associations will once again sponsor the Northeast Hamxposition and host the ARRL New England Division Convention in Marlboro, Massachusetts on August 26-28, 2022. Details will be published at https://hamxposition.org.
The Meriden Amateur Radio Club's Nutfest will host the ARRL Connecticut State Convention in North Haven on October 9, 2022. Details to follow at https://www.nutmeghamfest.com.
See https://nediv.arrl.org/arrl-sanctioned-hamfests-and-convention-rules-regulations/ for the official rules on becoming an ARRL-sanctioned event. The application form can be found at http://www.arrl.org/hamfest-convention-application.