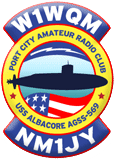 Kriss Kliegle, KA1GJU, writes on the Port City ARC mailing list:
Once again [Port City ARC] members (and non members alike), it's that time of year where we provide comms and extra eyes for the Exeter Holiday Parade. Warm clothes, shoes, 2M HT (or mobile rig if remaining in your vehicle), and set of ear buds or headset due to LOTS of QRM.
The parade heads out of the OSRAM entrance, making a left onto Portsmouth Avenue. The parade continues to the end of Portsmouth Avenue and then makes a right onto High Street. The parade continues straight onto Water Street passing the bandstand and ending at the entrance to Swasey Parkway.
We will use a simplex frequency on 2M, and will be X-banding up to 440MHz for NCS due to being in an RF hole in downtown Exeter. Frequencies will be given out on date of parade. Reminder, the parade route will be close from approximately 5:00pm – 7:00pm to vehicle traffic, so choose a spot on the route that allows you access both before and after the parade.
The route, very simple, 1.1 miles, and it hasn't changed in years, if ever.
<…>
Thank you very much.